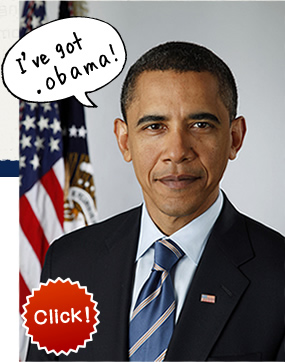 The new *gTLD program currently being discussed within the Internet Corporation of Assigned Names and Numbers (*ICANN) community will pave the way for people to apply for a new generic Top Level Domain (current examples of gTLD include ".com", ".org", ".net" among others). An expansion to the current limited range of gTLD could translate into gTLDs such as ".blog" or ".web".
President Obama has named Susan Crawford, a former board of directors of ICANN and now a head of the Federal Communications Commission transition team, to lead the dotObama project.
A Japanese ICANN accredited registrar Interlink, was appointed to help dotObama team submit the successful application. The company is also organizing a contest called "World Domain Cup." starting in May 2009. In the World Domain Cup, Interlink will accept ideas from all over the world and decide which string would be the most needed top-level domain. The winner will receive the prize of US$10,000 plus the revenue share of US$1.00 for each domain under the new gTLD. Imagine if the name sells as much as ".com". It might be your chance to become a millionaire!
   *gTLD is a generic top-level domain, such as .com, .net or .org.
   *ICANN is a non-profit organization that manages the domain name system, accredits registrars, and registries.